Smart Tracking System『Vehicle One』
Real-time geographical position tracking and status monitoring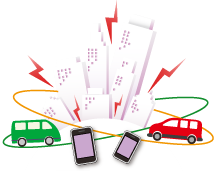 ・Displays the current position of vehicle on map
・Check the work status of a driver
・Assign work instructions and progress management

Bus tracking system「Smart BTS」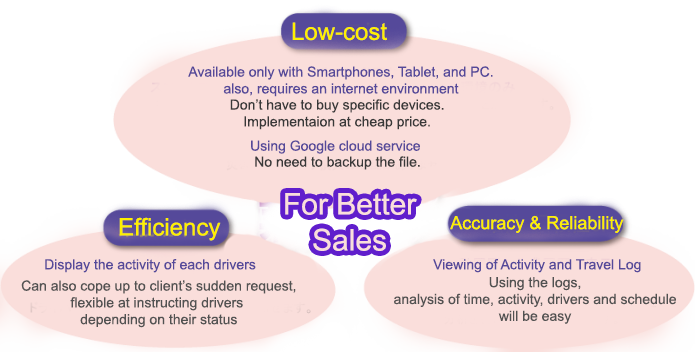 Features

Tracking the current location and status in real-time

Shows the location of the vehicle in the map in real-time

Viewing the nearby map, as well as searching for routes

Select the route and view the nearby location map

Voice messaging

Task entry, instruction, and even progress management can be done with Vehicle One

Task Visualization, by sharing of information between serviceman and operator

Vehicle One can also send messages

Can contact the serviceman anytime.

Business improvement by using records from business log

By using the driving log of each vehicle, analysis from the notices such as day of week, time, task, serviceman can be done which will lead to business improvement. Also, daily report can be generated automatically.

【Alarm】

Reminds the task schedule using alarm

【Settings】

Depending on the client's need, classification of tasks and servicemen can be done

【Security】

Password will be set to every user for security purposes. Cuts off the access from unregistered device.

System Structure / Operating Environment

Smartphones, Tablet, or PC with GPS, and Internet environment.

Vehicle One Application

【Compatible device】

Smartphones or Tablets with Android2.2 above and GPS
iPhone/iPad

※ Google Chrome and Android is a registered trademark of Google, Inc.

Contact Us

Ubiquitous Technologies welcome inquiries about our products, development plan. For more information, please contact us:

Zip Code: 1230
5/F King's Court Building I, 2129 Chino Roces Ave.
Corner Dela Rosa Street, Makati City, Philippines
TEL: (02) 728-1993 to 94 / FAX: (02) 751-1880
MAIL: info@ubiquitous-tech.com

Tracking the Location of a bus in real-time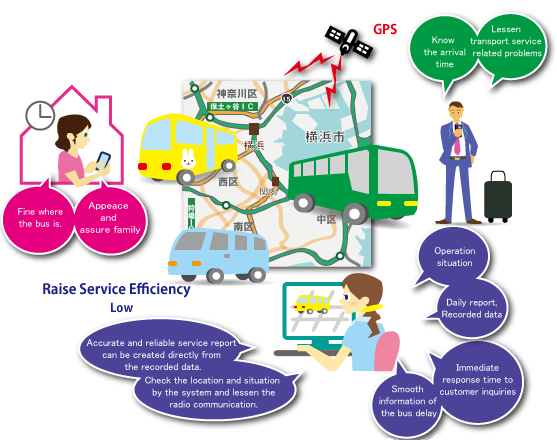 Smart BTS(Bus Tracking System) keeps real-time tracking of the bus routes and status at the office and on Smartphone.
Smart BTS (Bus Tracking System) Overview

Driver

The bus information is updated constantly.

Management Staff

Keeps real-time tracking of the location at the office.

Customers

Passengers/Commuters can check the current bus location and bus stop on the web browser screen on Smartphone or mobile phone.

Examples - Common Use Cases

School bus for Kindergarden/ nursery school
Swimming school, sports gym
Driving school
Limousine
Airport Parking
Shuttle bus, etc.

Smart BTS (Bus Tracking System) Demo Websites

Smart BTS (Bus Tracking System) Demo Websites

It enables to search and view the bus timetable when bus stop icon is pressed on Smartphone or PC.
The map can be scaled up and down via pinching on Smartphone.
Tap directly on the bus route select box, and select the desired bus route, then input the password "ubiq".

PC, iPhone, iPad, Smartphone
Mobile phone

※ Recommended browser: Google Chrome, or Firefox

Smart BTS (Bus Tracking System) - Sample Uses

Contact Us

Ubiquitous Technologies welcome inquiries about our products, development plan. For more information, please contact us:

Zip Code: 1230
5/F King's Court Building I, 2129 Chino Roces Ave.
Corner Dela Rosa Street, Makati City, Philippines
TEL: (02) 728-1993 to 94 / FAX: (02) 751-1880
MAIL: info@ubiquitous-tech.com

2015.09.04
"New Value Creation Exhibition 2015" will be held on November 18, 2015 (Wednesday) ~ November 20, 2015 (Friday) at the Tokyo Big Site West 3, Hall 4. Deployment of optical equipment application technology and testing equipment for production that uses image analysis technology will be exhibited.
2015.08.28
Ubiquitous Technologies has announced the tracking system "Beacon One". An indoor location monitoring system that uses "Bluetooth Low Enegy" (BLE) Technology. Sales of the Package System is from September 1, 2015. The service is provided by cloud server.
2015.07.02
2015, June 17(Wednesday) - June 19(Friday), Image processing measurement system, TechMeasure series, TechVMU was displayed on "2015 West Japan Innovation of Manufacturing Technology" at West Japan General Exhibition Center in Kyushu Institute of Technology booth.
2015.04.06
Ubiquitous Technologies Philippines Inc. will participate as a sponsor of the PSIA (Philippine Software Industry Association) in 2015 "Software Development Environment Exhibition (SODEC)". Please come on May 13(Wednesday) - May 15 (Friday) in the Phillippines booth at the Tokyo Big Sight.
2015.03.04
Ubiquitous Technologies will start to sell the "Printing verification inspection equipment".
2015.03.03
On April 1, 2015, Ubiquitous Technologies will begin to sell the "Tabletop image sizer 'UBIQ-TechVMU-500'" as the first product of "Techmeasure" series.
2015.02.17
We would like to say thank you for visiting "'Technical Show Yokohama 2015'" at Pacifico Yokohama on February 4-6,2015. In particular, Printing inspection, Label inspection, Particle inspection, Scratch test, Dent inspection, Burr inspection, Error-proofing, Inquiries such as sheet inspection. On the other hand, we allowed suggestions such as ink jet printing inspection equipment and Area camera, visual inspection equipment in line sensor camera. In addition, we plan to sell such as "tabletop sizer" of low-cost version in the future.
2015.02.04
Line sensor system / Tabletop Image Sizer was displayed on "Technical Show Yokohama 2015"
2015.02.02
We will exhibit the Tabletop Image Sizer, appearance inspection apparatus according to the line sensor camera in "Technical Show Yokohama 2015" at Pacifico Yokohama from February 4-6, 2015.
2014.07.17
July 17, 2014, Ubiquitous Technologies Inc. established "Kyushu Development Center" at Miyakogun, Fukuoka prefecture for the purpose of developing, manufacturing and marketing of FA Inspection Equipment. We could provide the most appropriate inspection equipment and system by our one-stop custom design that includes development, manufacturing, installation and even maintenance of equipment or system such as visual inspection system, image sizer equipment, manufacturing equipment, and production management system. Our image processing technology and visual inspection system using the optical device control technology accumulated by long-time experience could provide flexible customization depending on client's products and its production lines, from simple crack inspection to foreign object detection, aiming for better product quality.
2014.06.27
Development of tabletop size measuring apparatus utilizing the image processing technology was adopted at 2013 fiscal correction small and medium-sized companies and small business manufacturing, commercial and service innovation business.
2014.06.16
Ubiquitous Technologies Inc. and Clover Japon, Inc. released the software "Clover Chord Systems" windows version for master rhythm music and code.
2014.04.04
Ubiquitous Technologies Inc. and (representative director Ishii Tatsuhiko) of Clover Japon Inc. have concluded the alliance of development and marketing of dedicated software "Clover Chord Systems" master rhythm notation and code notation.